Next delivery: Wed 25th May 2022

Oranges 1kg (R33)
Carrots (R23)
Fennel (R20)
Lettuce Pack (R22)
Onions 500g (R13)
Spring onion (R22)
Sweet Potato 600g (R21)
Swiss Chard (R22)
Tomato 600g (R29)
VALUE = R205
YOU PAY R195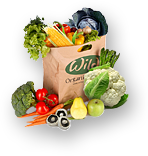 Shop At Wild
Choose from one of 3 different Wild Bag offerings below. Our fresh fruit and veggies vary weekly, as we follow the seasonal harvest of local farmers.
You're welcome to add some tasty extras to your Wild Standard or Mini Bag from our selection of breads and cheeses, meats, dried and bottled goods.
Please take time to follow the order process all the way through to pressing the "CONFIRM" button.
You will see an order number and will receive an electronic order confirmation almost immediately.
If you dont have an order number then we dont have your order.
Wild Standard Bag
Our seasonal selection of fruit and veg, feeds 2-3 people for a week.
R195
Order a Standard Bag »
Wild Mini Bag
We choose 8-9 items from the same list as the Wild Standard bag, packed in slightly smaller quantities: good for one person.
R145
Order a Mini Bag »
You do the picking. Choose exactly what you want by selecting from "Currently on our shelves".
Minimum value R130 per order
Online Shopping Days
Please note: our online shop is open each Wednesday at 18h00 and closes on Sunday at 13h00.
Please ensure that you have collected all your goodies from your selected collection point on day of delivery as Wild cannot be held responsible for orders not collected on the day.