Next delivery: Wed 13th December 2023

Beetroot (R25)
Carrots (R25)
Leeks (R25)
Potato 750g (R18)
Summer Salad (R25)
Swiss Chard (R25)
Table Celery (R24)
Tomato Cocktail (R32)
VALUE = R199
YOU PAY R195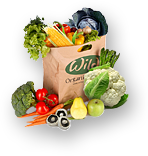 WILD ORGANICS ONLINE STORE
Ordering cycle 6pm Wednesday 6th December through to midnight Sunday 10th December.
Delivery Wednesday 13th December 2023
Fresh, organic fruit and veg bags are at the heart of what we do. We offer a choice of 3 Wild Bags - the Standard Bag, the Bigger Better Bag and the Made-to-Order Bag.
Each week, we source high quality, organically farmed produce, and hand pack a bag of the best of what's in season which we deliver each week to a convenient collection point, or even to your home or office, in or around Cape Town.
Choose from our Wild Bag offerings below. Our fresh fruit and veggies vary weekly, as we follow the seasonal harvest of local farmers.
You're welcome to add some tasty extras to your Wild Standard or Bigger Better Bag from our selection of breads and cheeses, meats, dried and bottled goods.
Wild Standard Bag
Our selection of seasonal fruit and veg, suitable for 2-3 people for a week.

R195

Add any extra produce.
Order a Standard Bag »
Bigger Better Wild Box
A variety of seasonal produce suitable for 2-3 people who need a bit extra and more variety.

R250

Add any extra produce
Order a Bigger Bag »
Make your own Wild Bag

You do the picking. Choose exactly what you want by selecting from "Currently on our shelves".

Minimum value R130 per order
Select from the categories below
Fresh, organic produce is what we do. Try us, we deliver!