Next delivery: Wednesday 23rd August, 2017

Banana 750g (R21)
Naartjie 500g (R15)
Beetroot (R16)
Broccoli (R24)
Carrots (R16)
Courgette (R26)
Lettuce-cos (R16)
Onions (R13)
Radish (R13)
Sugarsnaps (R17)
Swiss Chard (R16)
VALUE = R191
YOU PAY R180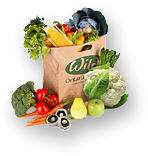 How Does Wild Work?
Orders
Flexibility
Wild Produce
Orders
Ok then, how do I order?
It starts with Registering to become a Wild customer.
Once registered hereafter, just Log-In, using your email address and your password.
Once that's done you can start with your order … decide which Wild Bag best meets your needs, add any extras you require, or create your own Wild Made-to-Order Bag, follow the route to "Checkout".
OFFICE HOURS:
9am - 4pm Monday - Thursday
9am - 2pm Friday
9am -1pm Saturday
Any changes to orders or cancellations we needs to be mailed info@wildorganics.co.za before our office closes at 1pm Saturday.
Do keep our weekly cycle in mind ... Wild and our farmers need a bit of time to process your order!
When can I place an order and when does Wild deliver?
Our website opens for orders from Wednesday evening through to 5pm Saturday.
Choose to subscribe to our newsletter and you will receive an email each Wednesday letting you know what will be in our Wild Bags the following week.
Wild delivers on Wednesday.
What are the delivery arrangements?
We have Collection Points throughout the City of Cape Town Metro to select from. We send a reminder sms once your order has been delivered to your chosen Collection Point.
If you have an order that includes dairy or meat produce, we suggest a home or office delivery. A delivery cost of R75 will be charged.
There are a few suburbs that we do not deliver to. Please select your suburb in the dropdown during the checkout process.
Help! Will I ever remember to order on time?
We offer an electronic newsletter each week when we open the website for orders which acts as a reminder. This newsletter tells you what to expect in our Wild Bags and it shares tips, ideas and recipes. Just click the "Subscribe to Newsletter" button.
Alternatively, contact us to place a regular weekly or fortnightly order.
Can I become a regular weekly customer ... without having to re-order my Wild Bag by Friday every week?
Contact us via email, requesting to be a regular weekly … or fortnightly … customer. We will repeat your order. The only time you'll need to contact us to change this is when your order needs to be put on hold. Please email us at info@wildorganics.co.za no later than midday on the Saturday prior to that Wednesday's delivery. Late notifications will de delivered and billed.
To make it easier, arrange a regular weekly or monthly payment instruction with your bank.
What if I'm late in ordering, can I still receive a Wild Bag?
Please do contact us to find out if we have a spare Standard bag available. Please email or call our office on 021 510 5447.
How and when do I pay?
As you process your order you will be asked how you choose to pay: COD or EFT
As we receive your order, you will receive a confirmation email with a provisional Wild invoice and you will find our banking details on that invoice.
Should you choose to pay by EFT you will need to note the following:
When is the latest I can change or cancel my order?
You can change or cancel it any time before Saturday midday each week by emailing info@wildorganics.co.za
Cancellations received after Saturday midday are tricky for us as we will have already placed your order and made a commitment to our farmers. Late cancellations will be charged.
What if I'm on holiday?
If you go away, just email your dates to info@wildorganics.co.za and we'll put a hold on your order.
We'll resume deliveries in the week of your return unless you tell us otherwise.
Flexibility
If I sign up, do I have to receive a bag every week?
Of course not! Our customers need to experiment with what works for them. It takes time to adjust to eating locally and seasonally and to decide how much you need. You can order a Wild Bag whenever you want and you can change your Wild-Made-to-Order Bag each week.
Can I add some bread and cheese – for instance?
You can add anything to your Wild bag order. Scroll through the list to see what else is currently on our shelves and add it to your shopping basket.
What if there are potatoes in this week's bag but I still have enough?
If what's in a Wild bag doesn't excite you, consider making your own Wild Made-to-order bag for that week.
Sometimes I receive produce that I was not expecting ….?
Please remember Organic Farming is not predictable. It can be that despite the farmer's best efforts and our best intentions, we do not receive exactly what we order so it can happen that we do have to change some items in our Wild Standard or Mini Bag at the last minute. The upsides is that it helps people get creative with what the harvest provides.
I think something is missing from my order...?
Occasionally we have to make a change to your Standard or Mini bag contents because of the weather or yields. First check that we haven't substituted an item for something else. But if something is missing, please let us know and we'll replace it with your next delivery.
My pears looked like they'd gone a little too soft?
While every attempt is made to source and gently pack the best quality organic produce we can find, it can happen that produce is very ripe and is bruised or damaged on route to your home. Please do contact us within 24 hours of delivery if you are unhappy with your produce and we will make a note to replace them the following week or, if we are not able to source quality produce, we will pass a credit to your account.
Wild Produce
Is all your produce organic?
Absolutely. Our produce is farmed organically without the use of synthetic fertilisers, herbicides or pesticides.
All our farmers treat livestock ethically, meeting the physiological and behavioural needs of their animals. They farm without using hormones and routine antibiotics. We insist that animals are given plenty of space and fresh air to thrive and grow - guaranteeing a humane, proper free range life.
As far as possible, our produce is sourced locally, cutting down on packaging, storage and transport.
It is our priority to support and grow the base of farmers who have made the commendable decision to farm organically. Most of our produce is certified, but it can be that we choose to support a farmer who is either in conversion or is too small to afford certification. If they're in conversion, or can't afford certification, we at least know that they're farming the right way– and that's what matters.
Should I wash my Wild veg?
Yes, please do. We aim to give you great tasting, ethically produced food without impacting on the environment. We try to avoid mechanical washing of our vegetables as it can damage them, reducing shelf life, nutritional content and flavour. Fruit and veg should be washed as close to eating as possible. So yes, please wash it yourself.
What about storing Wild veg to make it last?
Our philosophy on packaging is also simple - use as little as possible without compromising quality. The real trick is to receive it and pack it away as soon as you possibly can. Consider each item, wash if necessary and store it as it should be stored … in a cool, dry place, in a glass bottle, in newspaper or in sandwich wrap in the fridge.
Please contact us if you have any questions about any of our produce.
Is all your produce local?
We work hard at making sure that as much of our produce as possible is from the Cape. We do get small quantities of fruit and meat from elsewhere in South Africa. It is very difficult to source organic dried produce locally, so some of our grains, legumes, rice and seeds are imported.
Online Shopping Days
Please note: our online shop is open each Wednesday at 18h00 and closes on Saturday at 17h00.
By supporting Wild you are directly supporting local organic and free-range farmers...no farms, no food...