Next delivery: Wednesday 28th June, 2017

banana 750g (R21)
clementines (R15)
lemons x 2 (R10)
beetroot (R16)
carrots-rainbow (R21)
cauliflower (R24)
coriander (R12)
fennel (R15)
lettuce-cos (R16)
potato 1kg (R16)
sugarsnaps (R16)
swiss chard (R16)
VALUE = R198
YOU PAY R180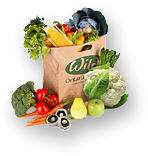 Contact Wild Organics
Online shopping streamlines ordering nicely, but we love talking to our customers. You can call us anytime to discuss your options, how, what, when and whatever else.
Call 021 510 5447 or 084 448 1920.
Or drop us an email at: info@wildorganics.co.za.
Opening times
Wednesday: 13h00 - 16h00
or by arrangement
Address
29F Gray Street
Paarden Eiland,
Cape Town,
7405
At the heart of Wild is our belief in the importance of organic food for all of us.